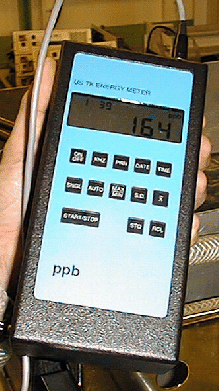 We are going to use the automatic storage features of the meter to capture the data in sequential memory locations using a 10 second sample time. In order to avoid confusion, it is best to make sure the memory is clear, and this should be done by pressing The STO and RCL keys simultaneously.

Now press Auto to set the meter into the mode which automatically stores each reading in the next available memory location.

If it is not already functioning, start the ultrasonic system running, and allow it to reach an equilibrium state, or a state which represents its working conditions. Starting at the lowest depth (the highest marker on the stem), place the probe at position 1, and press the START/STOP button. You will see the large display reading the system power, and at the left the small digits counting up the elapsed time of this sample.

When the time reaches 10 seconds, press the START/STOP button again. The counter will stop, and you will see a message briefly displayed which confirms that the value has been stored in Location 1 (Loc 1). Now move the probe to position 2, keeping the depth marker on the probe stem aligned with the water surface. Press the START/STOP button again to start the next sample, wait 10 seconds then press START/STOP again to store the sample in Loc 2. Simple, isn't it !
Repeat this process, taking 10 second readings at all of the sample positions in the tank at the same depth. When you have done this, return the probe to sample position 1 and take readings at the next depth marker, repeating samples at this depth for all 10 positions. Then go back and do 10 positions at the next depth and then the last 10 positions at the most shallow marker on the probe stem.

You now have your data: 40 samples, taken in 10 positions at 4 different depths. We are now going to show you how to connect your ppb meter to your PC with the lead supplied and how to download these readings and transfer them to a file which may be read using Excel (tm).