Since 1996, ppb has been the leader in providing solutions to your Ultrasonic
and Megasonic cleaning efficiency concerns. With ever decreasing dimensions or need for quality assurance,
the understanding and analysis of your cleaners has never been more critical.

Our advanced line of cavitation metrology
instruments have been proven to increase yield by accurately measuring the
energy and frequency in Ultrasonic and Megasonic cleaning baths, nozzle
streams and films, and cell disruptors and
homegenizers

Our digital hand-held meters allow users to map the in-situ energy distribution, establish tank-to-tank uniformity, and
identify de-bonded or failed transducers. This is accomplished through our
advance sensor and signal processing design, which captures the cavitation
implosion and the driving acoustic signatures.

Our probes provide an accurate and repeatable measure that incorporates
such solution variables as temperature, vapor pressure, surface tension, and flow
rate. Continuos monitoring is also possible with our Monitoring-Transmitter. NIST Traceable Calibration available.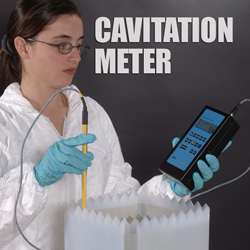 Megasonic Bath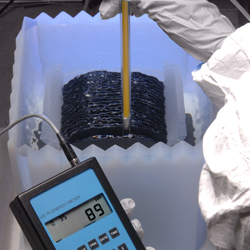 Ultrasonic Bath